UNFALTERING COMMITMENT TO MEETING YOUR REQUIREMENTS
We're established, highly skilled mobile coffee specialists who live, breathe and love coffee, day in, day out.
We harness our passion for coffee to do what we do best, add real value to your stand and/or event by providing you with the highest quality mobile barista service, serving the finest coffee, teas and hot chocolate around.
We offer much more than your typical mobile barista service
Thanks to our delicious smoothies and juice bar service, which is the zesty counterpart to our fantastic barista service, we can serve refreshments to suit your event. Cater to everyone, whether your guests are after a skinny latte, espresso or a thirst-quenching juice or smoothie.
TRUE PASSION, BACKED BY EXPERIENCE
With over 10 years of experience, we've honed our processes to make our barista service a smooth operation.
We find out what you want to achieve, and set about creating a detailed event plan to get it right at every stage.
Friendly team of trained baristas
Branding options for every element
Fully-inclusive, customisable service package
Freshly-roasted Northern Espresso for your event
Managed process at every stage
Let's talk
Meet the team
Our team are based in Leeds and travel across the UK and Europe to events of every size. Working with big brands in some fantastic locations, we attract amazing people. Our team, much like our clients, stick with us.
Elsie O'Dwyer
Meet the team
Our commitment to exceptional coffee, the highest standards of service, and sustainable events makes us a trusted partner. We represent your brand at events and take the hassle away from serving refreshments. Our baristas create a warm welcome and memorable first impression.
Our history
Our Directors Sam and Matt met in Sydney, Australia, in 2010. Sam was as an Events Manager for private and corporate events and Matt was Operations Manager for 12 cafes. The Barista was formed in 2011 when they got back to the UK.
In December 2012, The Barista moved to a unit in Leeds, which was soon outgrown by growing staff numbers and machines. In this time, standout events included the MTV Awards in Northern Ireland, events for Google, and the Mobile World Congress in Barcelona.
February 2015 saw the move to our larger unit. From here, The Barista has solidified itself in the events market and has grown capacity to 33 machines and the ability to deliver on scale over multiple locations.
Our coffee
You can find average coffee everywhere, particularly at corporate events, which is why we created our signature blend – Northern Espresso – to guarantee distinct flavour with every batch.
The coffee we serve at your event is the same coffee we roast, blend, test, refine and drink ourselves. It's freshly roasted in our micro-roaster specifically for your event.
We have direct relationships with coffee bean importers who work with the farmers, meaning we know our coffee is sourced ethically and sustainably, from locations across the globe.
Our Coffee
Sustainable events
In our role as event suppliers, we have a responsibility to reduce our carbon footprint as much as possible. We use compostable materials, reduce waste, use efficient machinery and software, and limit mileage on every journey.
We want our clients and partners to know they're working with a supplier who's making sustainable choices. We have been awarded the Gold Sustainable Events Award by ESSA and we continue to improve our processes and outline them in our Sustainability Policy.
Sustainability
We are independently audited by and accredited members of the Event Supplier and Services Association (ESSA) with a Tier 4 status for Sustainability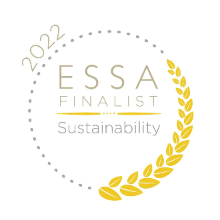 We provide the best possible experience for you and your guests
Let's talk
Highest quality drinks
Service to reflect your brand
Professional with personality
Consistently reliable service